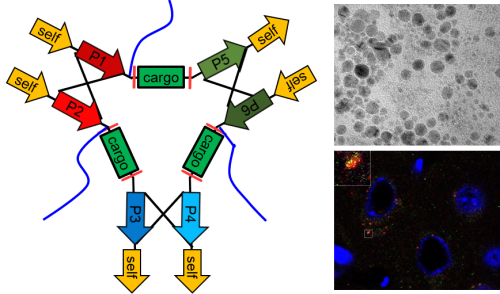 A team led by Jiangbing Zhou, Assistant Professor of Neurosurgery and of Biomedical Engineering at Yale, has developed a versatile platform for the targeted delivery of therapeutic peptides to tumors or the brain.  Their manuscript, published in Advanced Materials, describes a novel approach for the design and synthesis of "activatable" protein nanoparticles (APNPs), and utilization of APNPs for safe delivery of therapeutic peptides for effective treatment of cancer and stroke.
Activatable Protein Nanoparticles for Targeted Delivery of Therapeutic Peptides
X Yu, X Gou, P Wu, L Han, D Tian, F Du, Z Chen, F Liu, G Deng, AT Chen, C Ma, J Liu, SM Hashmi, X Guo, X Wang, H Zhao, X Liu, X Zhu, K Sheth, Q Chen, L Fan, and J Zhou
Abstract:
Clinical translation of therapeutic peptides, particularly those that require penetration of the cell membrane or are cytolytic, is a major challenge. A novel approach based on a complementary mechanism, which has been widely used for guided synthesis of DNA or RNA nanoparticles, for de novo design of activatable protein nanoparticles (APNPs) for targeted delivery of therapeutic peptides is described. APNPs are formed through self-assembly of three independent polypeptides based on pairwise coiled-coil dimerization. They are capable of long circulation in the blood and can be engineered to target diseases. Peptides to be delivered are incorporated into APNPs and released into the disease microenvironment by locally enriched proteases. It is demonstrated that APNPs mediate efficient delivery of NR2B9c, a neuroprotective peptide that functions after cell penetration, and melittin, a cytolytic peptide that perturbs the lipid bilayer, for effective treatment of stroke and cancer, respectively. Due to their robust properties, simple design, and economic costs, APNPs have great potential to serve as a versatile platform for controlled delivery of therapeutic peptides.